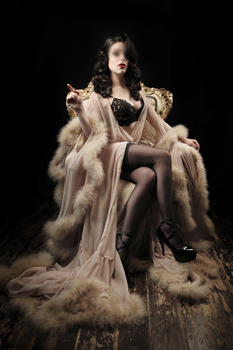 My journey as a professional Goddess began in 2015, not long after graduating from business school. I quickly learned that I was different from the others; the corporate world wasn't for me. I ached for a more unique path, one which allowed me to do things MY way. As if the universe answered me, I found myself in this industry and within weeks, I quit my job, knowing this was the route I was to take. Armed with a corset, a mind full of research and, embarrassingly, a flimsy flogger, I set off. Five years on, I have transformed into the experienced and knowledgeable Vixen I am today, continuing to grow through constant learning, watching and doing - which is my key to being the absolute best that I can be. You see, I want nothing less than perfection.
?
Physically I am petite and athletically built, with a head of long flowing near-black hair and a set of hazel eyes that can lure almost any man into a false sense of security. Underneath this, however, are my powers. The way in which I can command a room is awe inspiring; I have a natural ability to make people do exactly what I want them to do, without them even knowing they are doing it. My imagination, quick wit and sharp tongue is what sets me apart from other Mistresses. I can plan the greatest scenarios, but you will find things generally take unforeseen turns during my sessions due to my creative mind and ability to reflect from your reactions; this is what makes me so addictive to you.
?
My greatest enjoyment is overpowering a man. Pure and simple. There's just something so exhilarating about the look of shock taking over a sub's face when he realises "Dammit, she's actually taken me down", almost as if they didn't believe that my tiny 5 foot 1 body could! Oh, how it makes me giggle with glee. I particularly love wrestling and beatdown scenes, taunting and teasing you whilst pinning you down with my knee in your back. However, I don't have to rely on my physical strength, of which there is plenty, as I can easily reduce you to a humiliated wreck with my words.
"Petite, pretty but, damn, I am a power to be reckoned with."
www.seductivemistressglasgow.co.uk/