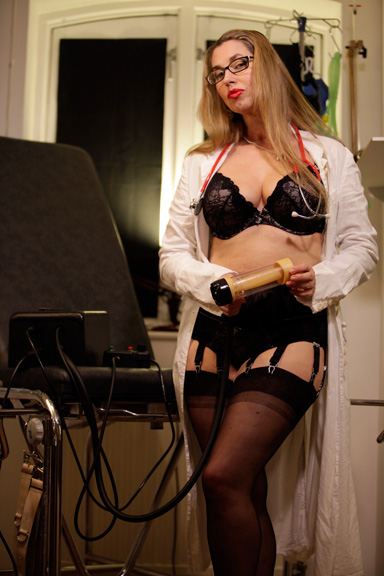 1) Tell us a little about your background and how you became involved in Domination?
I used to ride motor bikes from an early age and I thought I was Marianne Faithful  (Girl on a Motorcycle).  She rode around on a Harley, I rode around on a Triumph Bonneville.  So when I was invited to The Sex Maniacs Ball, I decided to wear a leather catsuit.  I loved the atmosphere and watching people play. I borrowed a riding crop and found myself instinctively punishing a slave who had the audacity to kiss my boots without permission!  After that I attended other fetish clubs regularly and co hosted Submission, Respect and Café Ensemble in the 90's.  I also opened my shop in Camden called Libido making and selling fetishwear.  The logo was 'Hot Clothes for Cool Women'.  It was some years later (about 8 years ago) that I was asked to step in at Baker Street with Mistress Kitty as the other Mistress had left to travel abroad.  I never intended to be a pro Mistress but hey, I love it, so why not?  I prefer to be private than in public.  There are less distractions and the experience is more intense for me.
2) What advice would you give to slaves who wish to serve you?
Call me and discus their fantasy and activity interests and I will tell them if they are compatible with mine.  Slaves can email me too but they must phone me to actually make a booking.  I have many slaves and devotees who have been visiting me regularly for years but I can always create a vacancy for a slave who can prove he warrants it.
3) What are your favourite types of session?
Humm.. Tricky as that depends on my mood and also the other person.  I say other person because not everyone who visits me is a slave.  Some are submissive and masochistic, some are submissive and not masochistic.  Others are masochistic but not submissive.  Some are fetishists and some are just downright kinky!  I love role play.  I like medical roleplay but I am not an extreme/edge play Mistress.  I do not use needles or draw blood.  I do not do hard sports.  I like using my Venus 2000 milking machine and I like having a separate medical room at Kings Cross Chambers to play in. Equally though, I enjoy dressing in latex or leather and tormenting a devotee with tie and tease.  Ohh and how could I forget fully fashioned stockings?  I love having my feet and legs worshiped while wearing them. I have a stocking slave who has been buying me these beautiful stockings since the 90's when he came into my shop and asked me if he could have the honor of being my stocking slave.  I call him 'Footsie'.
4) Do you attend any clubs relating to BDSM/Fetish lifestyle?
Occasionally I go to Club Rub as Miss Kim and I have been friends for many years and that also goes for Derek from Club Pedestal
5) What do you prefer to wear during sessions?
Ahh well I have kind of answered that already.  Everything from fully fashioned stockings and high heels to rubber, leather and PVC catsuits with thigh boots. I love corsets, girdles and my nurses outfits.  I will dress to please where possible.  I know some Mistresses don't but if wearing a certain outfit help me gain control and send my devotee off into subspace or another world, why not?
6) Do you also offer other services such as phone domination, email/online, and training?
No, I prefer THE REAL THING!
7) What are the things You most like and dislike in a slave?
Men who visit me must be clean, respectful, have a sense of humor and ideally offer reaction and/or feedback.  If someone is not clean they are promptly introduced to the shower and if they are seriously rude or disrespectful, they are introduced to the exit.
8)What are Your favorite gifts from a slave?
Well that's difficult.  I accept all gifts graciously. However, I suppose the ones that stick in my mind are Christian Louboutin shoes, hundreds of fully fashioned stockings, numerous items for the dungeon, medical and schoolroom including electrics, suspension harness, clothes and whips, Rioja wine, Issy Miyaki and Chanel perfume, Selfridges and Amazon gift vouchers, flowers and chocolates… to name a few and I love them all!
9) What advice would you give to a newbie who has never visited a Mistress before?
Have a look at books or websites and try to get an idea of the sort of session you would like. Take a chance and call.  I am very patient and ultra discreet. As I have said before I prefer phone contact.  I can tell on the phone if you are nervous but hopefully by the end of the conversation you will be 'healthily nervous' but feel brave enough to take the plunge, after all you only live once. I believe you should try new experiences and never grow old with regrets.