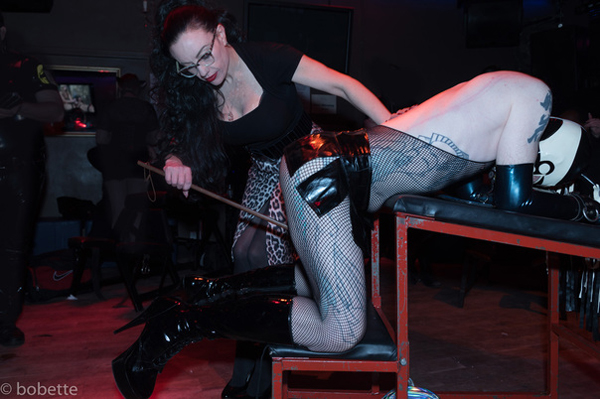 This is a small and friendly BDSM party at a lovely old vicarage in South London, from 12 noon to 5pm. Hang out with fellow kinksters, dress as you like, socialise and play all you like in the dungeon for five hours!
Our star guest at Doms & Subs on Friday Afternoon, March 2nd is Mistress Absolute. One of the world's elite Dominatrixes, Mistress Absolute runs Club Subversion, Subversion Noir, London Fetish Weekend, Domme Trips and Club Femdom.
This is your chance to meet a very special dominatrix in a relaxed setting. Maybe, if you ask nicely, she will take you into the dungeon…
There is no pressure; the atmosphere is relaxed. However, the dungeon is well equipped. There's a cage, cross, whipping bench etc – and why not also bring your own toys.
Our resident male dom is on hand and our dungeon master and rope bondage expert is usually around. Dominatrixes are admitted free of charge, so it's a great way for dommes and subs to meet in a relaxed way.
We don't care what age or body shape you are – just be nice people! And of course, be into BDSM in some way or other. Newcomers are warmly welcome – you do not have to be "hardcore".
You can absolutely wear whatever you like – fetish dress is warmly encouraged (although not compulsory). There is a changing room and two showers, so you can arrive in your street clothes, transform yourself at the vicarage, then change back to go home.
Bring your own booze. You are welcome to bring some nice cake if SM makes you hungry! The vicarage is near Sutton station – we can pick you up there with pleasure. This is a non-judgemental, inclusive space, women-friendly, t-girl friendly, very relaxed. A place to live out your SM desires among friendly people.
Tickets are booked in advance: M/f couples £10 , Single women £10, Single men £50, T-girls £15